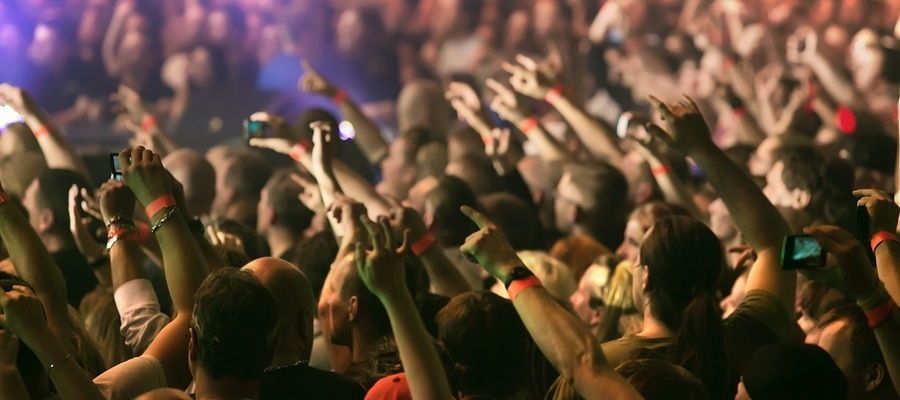 Music festivals are a real staple of the British way of life. However, with ticket prices on the rise for some of the more major festivals, many people are being either priced out of attending or are opting to spend their money elsewhere. Running your own music festival can be an incredibly fun and rewarding venture. Not only will you have control over literally everything – from the line up to the venue – but you will also provide your friends, family and locals with a fantastic event that could live long in their memory. If you're not sure where to get started with planning and hosting your own festival, don't worry – using our helpful guide, we will point you in the direction. Follow these six simple steps and you'll be well on your way to hosting your own music event.
Step 1: Nail the Venue
The venue you choose can make a big difference to how successful your event is. Think about your target audience and find a venue to match the numbers that you expect to attend. Also, consider the transport arrangements – ask yourself, for example, is there a car park available or a train station nearby? Are you wanting your guests to camp, or will it be a one-day festival? And how will your venue guard against any potential weather issues?
Once you know the answer to each of these questions, you will then be able to move forward with the venue choice. One popular option is a marquee tent, which can be erected more or less anywhere – whether it be in a field or at the back of a stately home. Choosing this type of venue can also be highly cost-effective, as many providers will fully decorate their interior, taking the stress out of needing to do it yourself. You could even think about hiring a few of them if you wanted to have multiple stages for artists to play on simultaneously.
Step 2: Nail the Music
Probably the most important part of a music festival, the line-up has to be great. However, deciding on who you want to play will depend on a number of things. From your budget to the genre of music, you will also need to think about how many artists you want to book in total, and calculate how long you would like each of them to play for. Likewise, you'll want to make sure you don't overpay your artists – think about your attendance and operational costs when working out which acts you can and can't afford.
Once you've chosen your acts, you'll need to think about the running order you want them to play in. Generally speaking, acoustic acts fit better earlier on in the day, whereas DJs and more well-known bands are better off saved until later on in the evening. Also, headliner acts should be booked as soon as possible so that the event can be marketed towards a wider audience. Find your perfect acts using websites like ReverbNation and The Unsigned Guide.
Step 3: Nail the Marketing
Organizing the perfect festival is one thing, but attracting people to it is another. In order to get people through the doors, you need to rely on marketing – whether that be handing out paper flyers in the street, or through an effective search ad campaign.
Put yourself in your audience's shoes – what would attract you to a festival? Utilize social media channels to reach a wider audience and keep interested attendees regularly updated using videos, photos, line-up announcements, accommodation details, and so on.
Also, consider using a targeted advertising campaign, but make sure you use your budget effectively. If your festival is only going to be a local event, for example, there's not much point advertising to audience members across the globe – think about the best ways to reach your target audience specifically.
Step 4: Nail the Décor
OK, so you've got the venue, line up and marketing nailed – now it's time for the event itself. As we've already mentioned, some venue hire places may do the decorating for you themselves but, if not, it'll be up to you to think about how you want the festival to look. This will very much depend on the style of event you are running, the location it's based in, how sustainable you want it to be, and what time of day it's taking place.
For example, if you are organizing a more general festival with marquee tents in a field somewhere in Devon, decorating your venue with solar-powered fairy lights, comfy seating options, and a neutral color theme could work well. Similarly, if you're running a day-long death metal music event in a Shropshire-based town hall, a darker theme with innovative lighting options and more standing space could be a better fit.
Step 5: Nail the Event
When it comes to the day of the festival, you will need to ensure it runs as smoothly as possible – otherwise, it could affect how well your guests enjoy their time at your event.
Take it step-by-step: first, make sure that the transport and car parking arrangements are clearly signposted and well-organized. Second, make the check-in process as streamlined as possible, using a dedicated security team to organize queues and check bags. Third, ensure the line-up order runs successfully and that you and your team are well-equipped to deal with any last-minute changes.
Also, consider your event's health and safety protocol. Ask yourself questions like, how do I want my guests to respond in an emergency situation? Or, what procedures and personnel do I need in place if a guest suddenly falls ill? Having a risk assessment and emergency plan is vital to ensuring your attendees stay safe during the festival, and will also reassure them that you've got everything under control.
Step 6: Do it all Again!
Once the festival is over and the dust has settled, it's time to think about doing it all over again! While the event is still fresh in people's minds, utilize social media to post relevant video highlights and photos to ensure it lives long in their memory. That way, when you come to marketing a follow up festival, your previous guests will respond favorably.
The more you build up a relationship with your guests, the more likely they will be to want to attend your festival. Analyze what went right and wrong at your previous festivals, and learn from them for the future. If certain acts went down better than others, for instance, think about getting them back again in the future. Or, if you spent a large portion of your budget on bespoke seating options, but found via a feedback form that nobody used them, save money on them next time around by implementing less of them.
---
Author Bio
Dakota Murphey has over 10 years of experience in marketing and events management. She enjoys sharing her knowledge and experience through her writing and connecting with other like-minded professionals. Find out what else Dakota has been up to on Twitter: @Dakota_Murphey.
---
You might also like: