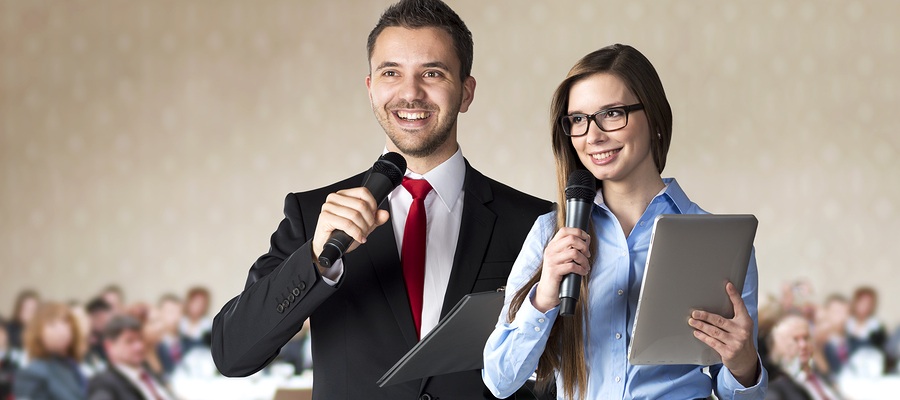 1) Show them Your Setup
Speakers have to prepare their presentations for viewing on your projectors. If their Powerpoint or Keynote presentation was created in a different resolution, it may be resized or harder to see. To ensure that this doesn't happen, let potential speakers know what resolution their presentations will be shown in. You can put this on your call for proposals so that potential speakers know exactly how to prepare for their talk right when they submit their proposals. In case your call for proposals is opened before your venue and equipment are booked, you can ask speakers directly what resolution they prefer.
2) Avoid Tech Failures
If anything goes wrong while a speaker is presenting, it will not only reflect badly on your event, but also on the speaker. Some speakers are already stressed or nervous about their presentation, and a technical failure will only make this worse. Technical failures can be avoided almost all the time, and taking the time to test your setup will minimize technology related issues. Make sure you have extra cables and chargers in case a speaker's computer isn't compatible with what you currently have.
Keep this short list of common tech failures and fixes at conferences in mind when planning your next event.
Issue: Projector has a different resolution or aspect ratio than the presentation.
Prevention: Make sure speakers know the dimensions their presentation will be shown in.
Issue: Cables don't fit speaker's computer.
Prevention: Send out an email to speakers with information on the setup your conference has, including cables, chargers, projectors, and screens.
Issue: Speaker has computer errors and can't open his presentation file.
Prevention: Ask speakers to send their presentations to you in advance, then store these in DropBox just in case.
3) Make it Personal
While larger conferences can give their speakers perks such as a chauffeur to and from the airport, smaller conferences can still go the extra mile and make their speakers happy while on a budget. Personal touches such as picking up an important speaker from the airport yourself, sending them handwritten thank you letters, or simply thanking them in person for a great talk can go a long way in making speakers happy. Most speakers present at multiple conferences each year; what can you do to make them remember your event?
4) Make them Famous
Everybody loves to be promoted and marketed. You can help out speakers by making it easy for attendees to find more information on speakers by having a detailed bio and contact info either on your conference website or on your schedule. Treat your speakers like your sponsors and put their faces on your website, social media profiles, and marketing graphics. Boost their business by promoting them.
5) Simplify the Submission Process
Making speakers jump through hoops just to submit a talk proposal is a sure way to earn their frustration. From making speakers print and snail mail their proposals to asking long and unnecessary questions, conference organizers make a lot of mistakes that turn speakers away. A simple and effortless submission process will increase the number of proposals you receive and save speakers time and frustration.
6) Throw a Speaker Dinner
Organizing a dinner for speakers before conferences is almost mandatory for conference organizers. Speaker dinners are a great way for speakers to meet each other and do some pre-conference networking. All speakers are naturally nervous before conferences, even professionals, and speaker dinners offer speakers a chance to talk to each other and share presentation tips and advice. Speakers have the opportunity to bounce ideas and themes off of each other. With speakers on the same page, the overall quality of your conference will increase.
7) Give them a Good Introduction
No one wants to be the guy who has to quiet down a loud audience. Before speakers go on stage and present, give them a good introduction by quieting the audience and giving a short overview of who the speaker is and what they will be talking about. This will help the attendees know what they're in for and will give the speaker a nice starting point for their talk. Making speakers introduce themselves can take time away from the presentation and be a daunting task for a first time speaker.
---
You might also like: