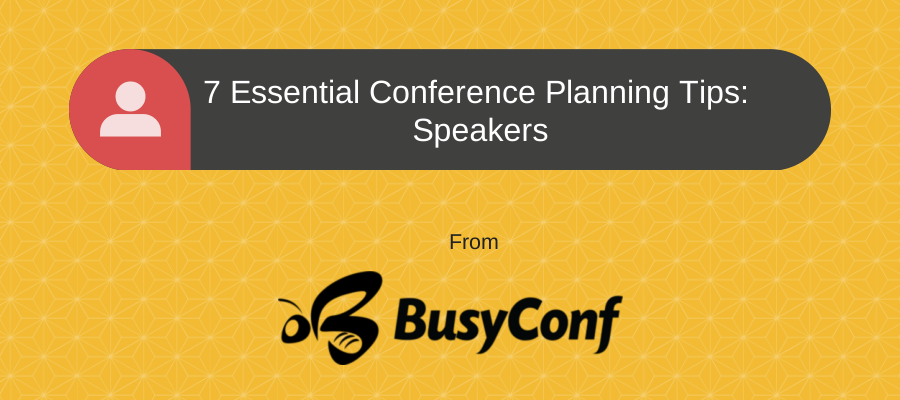 Conference speakers usually have a following in their field of expertise. This is a chance for you as a conference organizer to promote your conference. The easiest way to do this is to simply ask speakers to publish information about the event on their social media pages.
Publishing your speaker list on your website is also a simple method of promoting your conference through your speakers.
If you are using BusyConf's conference management system, make sure attendees know that they can link directly to their session within the conference agenda. Here's an example:
http://modeveast2013.busyconf.com/schedule#activity_52938921fe5bc100170000bf
By empowering speakers to promote their own sessions, you also help them promote your conference. This also helps conference attendees engage with speakers before and after the event.
2. Organize a Conference with Multiple Tracks
If your event includes a mix of sessions on different topics, or sessions targeted at different skill levels, then organizing a multitrack conference might be a good idea.
Multi-track conferences allow you to have more speakers and give attendees more options as to what sessions to attend. Event engagement is also increased when attendees have the option of attending the session most relevant to them.
Another benefit of organizing a conference with multiple tracks is that your conference can provide a greater level of expertise.
Instead of having a single track on one broad topic, your conference can include multiple tracks that are more in-depth. For technical and academic conference, having relevant and in-depth sessions is a must.
3. Know What Equipment Speakers Need
One issue that a lot of events have to deal with is not having equipment that is compatible with speaker's computers. Avoid the last minute scramble for cables or software by asking speakers what equipment and software they will need for their talks. You can do this by emailing speakers, asking speakers to fill out a survey, or by adding a custom form to BusyConf's speaker proposal pages. Different venues have different audio/visual equipment, so ensure that your speakers know how their slides will be presented.
4. Appreciate Your Speakers
Speakers can make or break your event.
Whether your conference has good speakers or bad speakers, people will decide if your event is worthy of attending based on your speaker list.
Planning an event is hard work, and so is speaking in front of a large audience. These are all reasons why you should appreciate your speakers.
Appreciating your speakers simply means acknowledging their contributions to your event and having respect for their time.
While giving speakers free tickets for their colleagues, and reimbursing travel costs are common and expected ways of acknowledging speakers, another idea for showing speakers your appreciation is organizing a pre-conference meet up for speakers. This allows speakers to network with each other and even give each other tips for their presentations. At the conference, try and give speakers a great introduction to help them give their talk a good start.
5. Organize a Review Committee for Speaker Submissions
Handling a large number of incoming speaker proposals can get overwhelming, especially if you are using email or surveys to college session proposals.
To organize speaker proposals, use an abstract management tool like BusyConf to collect, rate, and review speaker proposals.
For larger conferences, try inviting reviewers with domain knowledge to help review speaker proposals and abstract submissions.
With BusyConf, you can invite reviewers and collaborate with them to choose the best speakers for your conference. Domain knowledge helps reviewers choose submissions based on their relevance to the conference's topic.
6. Collect Speaker Information Early
As the conference planning process continues, you will eventually need speaker information and materials such as head shots, biographies, website links, and social media profiles.
Trying to get in contact with speakers at the last minute to collect this sort of information is a hassle, and a lot of the time, speakers are too busy to gather and send it to you.
Collecting speaker information and collateral early helps you with critical conference planning tasks such as creating a conference agenda and website.
You can follow up with accepted speakers to request collateral from them via email attachments, or use a conference speaker management tool to collect this information as speakers submit their talk proposals and abstracts. Collecting information such as job title, honors, company, website, and social media links is essential.
7. Help Speakers Succeed
While seasoned and professional speakers should have no trouble delivering a high quality presentation in front of a large audience, public speaking is still a daunting task for others.
Before the conference, send speakers resources such as videos or articles on becoming a great public speaker. They will appreciate this and your conference will benefit from better speakers.
Other options for ensuring the success of your speakers include sending speakers presentation templates or information about the conference attendees.
---
You might also like: