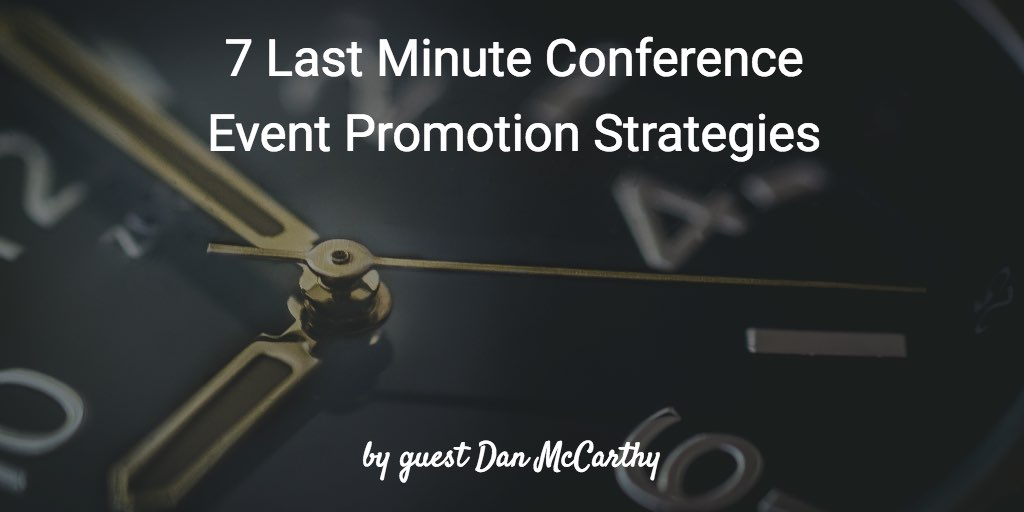 Obviously, you want to get a head start on the marketing for your upcoming conference. Even so, you can change things up last minute if ticket sales are faring poorly.
Even with only a week or two left before the event, you can still put together a sound strategy that elevates your brand.
1. Create a Special Offer
If tickets are still aplenty as the conference date nears, you can try putting into place a special offer of some kind. There are your typical buy-2-get-1-free or buy-1-get-one-half-off type of offers. Of course, you'll lose some revenue since some tickets are being sold at a fraction of the price or given for free.
However, it should increase overall sales. It also ensures more seats are filled at the event, which also equals more attendees to cater your latest offerings to.
These deals should also be extended to those who already purchased their ticket. If you're offering a buy-2-get-one-free special, for instance, then those who already bought two tickets weeks prior will receive a free ticket. Those who already purchased their ticket shouldn't feel like they are being penalized for being an early bird buyer.
2. Create a Contest
Host some type of contest with a ticket as the winning prize. Common social network contests include a picture that you submit that participants then have to edit in some way, such as by adding a caption or photo shopping it to make it funny.
Another idea is to hold a "fastest answer" contest via Twitter. This is especially a good idea if you're hosting some form of live webinar, which by the way, is another great last minute promotion idea in itself. After the webinar, begin asking questions to test whether listeners have been listening. Have participants tweet the answer; the person to answer the most questions first and correctly is the winner.
If you want to keep it simple yet effective, then just make the contest a sweepstakes. Have participants do something for you, such as like your conference event page or use the event hashtag a certain number of times to be entered into a random drawing for a free ticket.
3. Give the Ticket More Value
Make the ticket really worth its weight. Instead of just being good for entry to your conference, you can also give it value in some other shape or form. You can, for instance, include a serial number on the stub, which is good for an online discount purchase after the event.
Similarly, the ticket can also be good for a teleseminar held before or after the event, which ticket buyers can access by entering their ticket's registration number. Add some type of complementary material or benefit both before and after the event to give attendees the most bang for their buck.
This one is so obvious that it shouldn't even have to be mentioned. However, social media is so underutilized. Too many people only use social media for sending posts, and they only stick to the primary ones like Facebook and Twitter.
You have to be more diverse than that. Expand your social network presence by also including lesser utilized sites like Tumblr, Pinterest, and Google Plus. There are also a number of niche-specific social networks as well, not to mention numerous blogs where you might be able to submit a post as a guest contributor.
You should also get your own followers to help you along the way. Encourage them to use the event hashtag as much as possible and to get the word out.
5. Employ the Scarcity Tactic
When hosting an event on Facebook, invitees can click an icon to mark their status, namely whether they're attending, not attending, or "maybe." The people in the "maybe" category is a segment you really want to target when selling last minute tickets. These people are still on the fences. The scarcity tactic may help them make up their mind.
Include in your event page that tickets are scarce and that only a few remain. Once they're gone, they're gone. You can even embed a counter showing the number of ticket remaining, with that number ticking down whenever a ticket is sold.
When people realize that there is a possibility of missing out by procrastinating, then they would be more likely to immediately purchase a ticket even if still debating to themselves about attending.
Some event planners are hesitant about asking sponsors for promotional help. They have this idea that doing so would somehow rub the sponsors the wrong way.
Remember, though, that sponsors want the event to be successful just as much as you do because it means more exposure for them.
Sponsors also likely have a larger client base than you do, so they can reach out to a larger audience than you can. Whatever specials you have for your followers, be sure to extend it to your sponsor's followers. This includes invites for social media contests, webinars, and so on.
7. Get Active on Discussion Forums
Are forums considered social media? That's up for debate, and it really doesn't matter. What's important is that they are an excellent hub for reaching out to an untapped audience. While it's true that discussion forums are kind of dying out, there are still plenty of people who participate in them on a daily basis. Just do a Google search to find forums within your niche.
Becoming a member, though, doesn't give you a license to start promoting your conference right off the bat. If the forum is being moderated, there is a good chance you will be immediately barred. Contribute first by starting your own threads or replying to existing ones where you have an answer or can lend valuable input. Once you become a familiar member, then you may mention your upcoming conference in passing.
It's Never Too Late
There's always time to promote your conference even if you only have weeks or days as opposed to months. You might have to modify your methods a bit, but doing so will mean selling a few extra tickets that otherwise would have gone unused.
---
Author Bio
McCarthy is an Event Manager at Ultimate Experience, an event management company based in the UK. Dan has 5 years of event project management under his belt. He has worked on many successful events, and currently he shares his knowledge by writing on the company blog. Follow him on Twitter @DanCarthy2.
---
You might also like: