The conference is basically the bread and butter of the whole event. The conference is what most of the attendees came for. If the presentation or lecture bombs, then you can expect negative feedback and potentially a decreased turnout the next time you have an event.
For a successful conference, you have to make it interactive rather than just having the speaker talk the whole time. Here's 5 ways to ensure the audience becomes active participants rather than passive listeners.
1. Don't Leave Out the Q&A
Lectures hardly end as scheduled. It's common for speakers to go a few minutes over, resulting in the Q&A session being curtailed or canceled altogether. It's very important that the speaker takes questions from the audience. This gives attendees the sense that the presenter is accessible and not just some speaker that's just doing what he's paid to do.
Set aside at least 15 minutes to take questions from the audience. If the conference is being streamed, and it should be, then you should also answer questions from a remote audience submitting enquiries via social media.
Also keep in mind that Q&As don't necessarily have to be held off until the end. In fact, it's recommended that you divide the Q&A into two sessions. If the lecture is particularly long, like an hour or more, then have a 10-minute Q&A at the 30-minute mark and another at the end.
2. Make It an Edutainment Session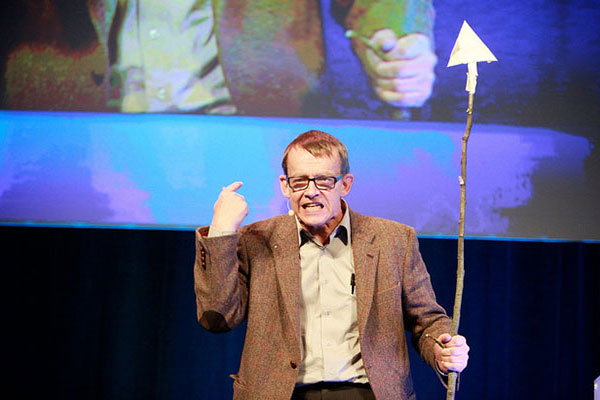 Photo: McMaster
Who says learning moments can't also be fun? Even if you have a charismatic speaker, if the conference drags on for hours, then even the most attentive listeners are going to zone out. A good way to keep the audience engaged is through a comedic speaker that can provide educational material while also eliciting laughter.
It can be tricky to find a speaker that is knowledgeable in your field that also has a propensity for making people laugh, but it's worth the effort to find such a person. When an audience is engaged, they'll be more inclined to ask questions, volunteer for demonstrations, etc.
Here's a video of business speaker and edutainer Mark Sanborn during one of his leadership conferences.
3. Hire a Professional Moderator
There should be a moderator to keep the speaker on track. The moderator's role is more important than most people realize. The person assigned this role has big responsibilities that include but not limited to:
Introducing the speaker
Making sure the speaker stays on schedule
Informs the speaker to move onto the next topic
Facilitates the Q&A
Collects questions asked via social media
Announces intermissions
A good moderator also interjects when audience members are speaking over one another, or calls for a brief break if the audience appears listless. The person needs to be cognizant of attendee reaction and act accordingly.
The role of moderator is tougher than it looks, which is why you should consider hiring a professional rather than designating the job to a staffer.
4. Incorporate Technology
Technology is always a good way to encourage participation in more ways than one. One way is to incorporate an event app where the audience can take a poll, in which the results will show up on a slide as it's presented in real time.
Another method is to add a social media wall. Encourage the audience to tweet their questions, which will appear on the wall. There will likely be some questions that come up more than once. These are the questions that can be taken and answered in detail.
If the conference is being streamed, then you can ask those watching remotely to submit their questions in the form of a video. This adds a bit more depth to the Q&A as you can associate a face with the question.
5. Campfire Sessions
Campfire sessions are ideal for smaller groups and is recommended if there's less than 20 people. These are more informal with the speaker taking more of a facilitating role rather than that of a lecturer. These can also be set in a more laid-back environment like a lounge or outside the venue. With these type of sessions, the speaker kick starts the topic to get the ball rolling. Others will then freely jump in to add their own input. Even if you have a large audience, you can opt to hold multiple campfire sessions divided into smaller groups.
Alternatively, if multiple presenters are available, and there's enough venue space, then you can eschew the conference altogether and instead hold the campfire sessions in a workshop setting. If the session is being live-streamed, then you can even have several members join the discussion through a tool like Google Hangouts. Just be sure that the total number of attendees – both live and remote – doesn't become too large.
Make It a Two-Way Interaction
There will be a sense of separation between speaker and audience if all the former does is speak nonstop. There has to be an outlet for the attendees to become active participants in some shape or form.
---
Author Bio
McCarthy is an Event Manager at Ultimate Experience, an event management company based in the UK. Dan has 5 years of event project management under his belt. He has worked on many successful events, and currently he shares his knowledge by writing on the company blog. Follow him on Twitter @DanCarthy2.
---
You might also like: