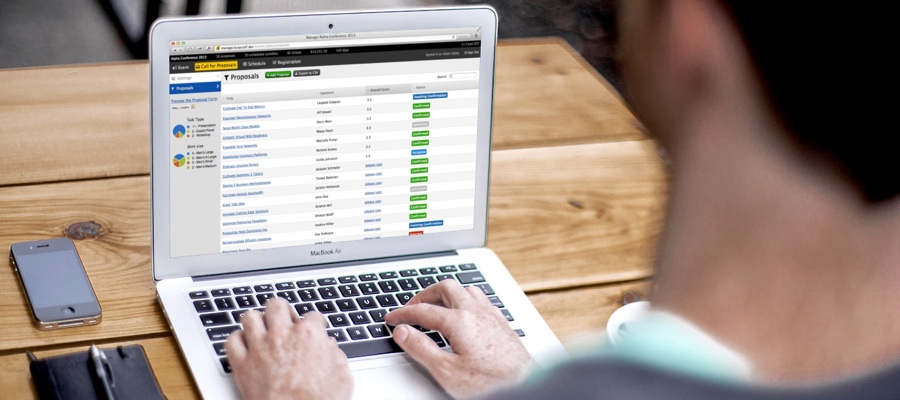 Planning a conference is no easy feat. It takes a lot of time, money, and energy. It must be planned down to the second. What if you had a tool that put everything you needed right at your fingertips? Now you do. BusyConf is a one-stop-shop that allows you to organize, plan, and create your event using one simple platform.
1) A Simple Event Planner
Planning a conference can seem like a logistical nightmare. At least that is what planning a conference may seem like to a novice or even expert planner. Well, get ready to say goodbye to the days of endless excel sheets, e-mails, word documents, and pdf files. With BusyConf, everything is in one place. Using the BusyConf platform, you can create schedules, share ideas with your team, and even sell tickets. You can also keep track of attendees and share information with them as the event gets closer.
2) Call for Proposal Forms
When you're looking for the perfect speaker for your next conference, you're probably going to put out a call for proposals. Call for proposals are usually set up through your business website or another online service. The conference planner directs all respondents to an e-mail address. That e-mail address is then inundated with e-mails. Each e-mail has an attachment that must be printed and reviewed. Each e-mail must be responded to and followed up. Sounds a bit overwhelming, doesn't it? Well, what if everything was in one place? What if the tools, the proposals, the requests, and the content was all in one location? It would make your job a whole lot easier. BusyConf offers just that service. BusyConf offers pre-built and customizable call for proposal forms. The BusyConf platform allows you to set up, request, and review call for proposals directly on your own portal. With BusyConf, your colleagues can view and comment on the proposals, and together, you can select the best ones.
3) Online Schedules
Don't you hate it when you get to an event and you realize you forgot to print out the schedule? Save money on printing while giving your attendees something to rave about with BusyConf's online schedules. BusyConf offers online schedules that are mobile-friendly and can be seen on almost any device. No WiFi? No problem. The schedules and programs can be viewed with or without internet connection on any mobile device such as a smart phone or tablet.
4) Online Registration
Believe it or not, there are still some conferences out there that require you to print the registration form and mail it in with your check or money order. Save that stamp and use BusyConf's seamless online registration tool. Online registration has never been so simple. BusyConf will help you create customized registration forms and tickets. Handle everything from early bird registration to last minute refunds.
5) Online Payment
No more processing and depositing checks. With BusyConf, you can accept all major forms of payment directly online. The platform allows you to keep track of all transactions and issue refunds or discounts.
Sounds pretty simple, right? Everything you need in one seamless and effortless platform. BusyConf realizes that time is money and there is often a shortage of both. Both the conference planners and attendees have a positive experience. To learn more about BusyConf, visit BusyConf.com or e-mail .
---
You might also like: