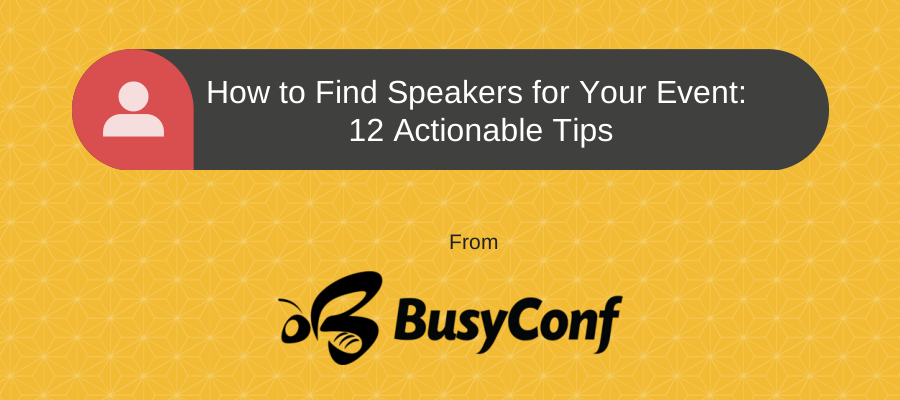 Planning your event can be stressful. Coordinating the budget, finding the venue and hiring an expert speaker are all important in the planning process.
If you are planning a conference soon, you may need to find guest speakers. Here are some resources to help you find the perfect speaker for your next event.
There is no shortage of professionals on this site, which is one of the most popular social networking sites online. Review profiles, participate in groups and read the content of your contacts to identify potential speakers for your next upcoming event. These professionals are often more than willing to consider speaking engagements.
This organization trains professional speakers and can connect you with professionals who specialize in public speaking. Booking a speaker can be done through their published directory. There are also local chapters of the National Speakers Association.
This site allows you to post a request for a speaker at your upcoming event. The site has thousands of speakers with completed profiles online for you to reach out to for your next event.
4. Look for certified speakers from leading organizations.
Organizations like Toastmasters, Certified Speakers Organizations and similar groups provide advanced certification training to their members. Consider learning more about local chapters in your area and look for available speakers.
5. Issue a call for proposals.
A call for proposals, also known as a call for abstracts, gives potential speakers the chance to directly submit their ideas for talks. This gives you a large pool of qualified speakers interested in speaking at your event. You can then assemble a review panel to review the proposals that are submitted.
Our tool, BusyConf allows organizers to set up a call for proposals and start receiving speaker proposals in less than 15 minutes.
Once speaker proposals are in, you can start rating and reviewing them to choose the best.

6. Reach out to your local Chamber of Commerce.
Business owners join these organizations to increase visibility for their brand or business in their area. The chamber may be another resources worth tapping into for your event.
7. Check niche professional organizations.
Regardless of the industry you are in, any professionals join industry organizations to build on their expertise. Members ofthese organizations often join these groups to take their careers to new heights, and are always looking for new opportunities, such as speaking at your event. Connect with these organizations to find knowledgable speakers.
These organizations sometimes use LinkedIn Groups to organize.
8. Use industry publications, both online and offline.
Guest bloggers are often looking for opportunities to expand their web presence and establish a reputation as an expert in a field. These guest bloggers showcase their expertise in their work. Sending an inquiry letter to a contributor may be an opportunity for you to connect with a speaker.
Use BuzzSumo to find influential publications in your industry and reach out to them.
9. Participate in online forums.
Forums are online communities designed to help people get information. In participating in these forums, you not only get the chance to learn and have questions answered, you also get more an opportunity to identify a potential speaker for your upcoming event.
Use Forum Finder to find forums in your industry to participate in.
10. Check your local university.
These institutions are often the first point of contact for finding an expert to weigh in on a subject or new study. Professors can also be ideal guest speakers in that they are skilled communicators and educators.
Many universities have a speakers bureau that connect conference and event organizers like you with professionals interested in speaking opportunities.
11. Look to nonprofits in your area.
Leaders in these organizations are often very active in the community and are comfortable speaking in front of audiences. Consider a local nonprofit as a potential resource for a speaker. This can also be a chance to add a chartiable component to your event.
12. Use your own network.
Your friends or colleagues may have recently attended a conference or community event. They may be able to refer you to a guest speaker that they have personally seen in action. This would be a great approach in that your referrer can tell you firsthand how they felt as an audience member at that event.
Once you have great speakers lined up for your event, check out our blog post on essential conference planning tips - speakers.
---
You might also like: